Composition Project
Community Event
Tuesday 13 June 2023, 6.00pm
Perth Concert Hall
West Australian Symphony Orchestra respectfully acknowledges the Traditional Custodians and Elders of Country throughout Western Australia, and the Whadjuk Noongar people on whose lands we work and share music.
How to use your Digital Program
You may use this digital program in the Perth Concert Hall Auditorium. Please use it respectfully and allow your fellow concert-goers to enjoy their concert experience by following these guidelines:
• Please enable Concert Mode at the top of your browser and further dim your screen in your device's settings.
• Place your phone on silent and mute all videos.

• Taking photos or video? Please ensure your camera shutter sound and flash are turned off.

Welcome to Composition Project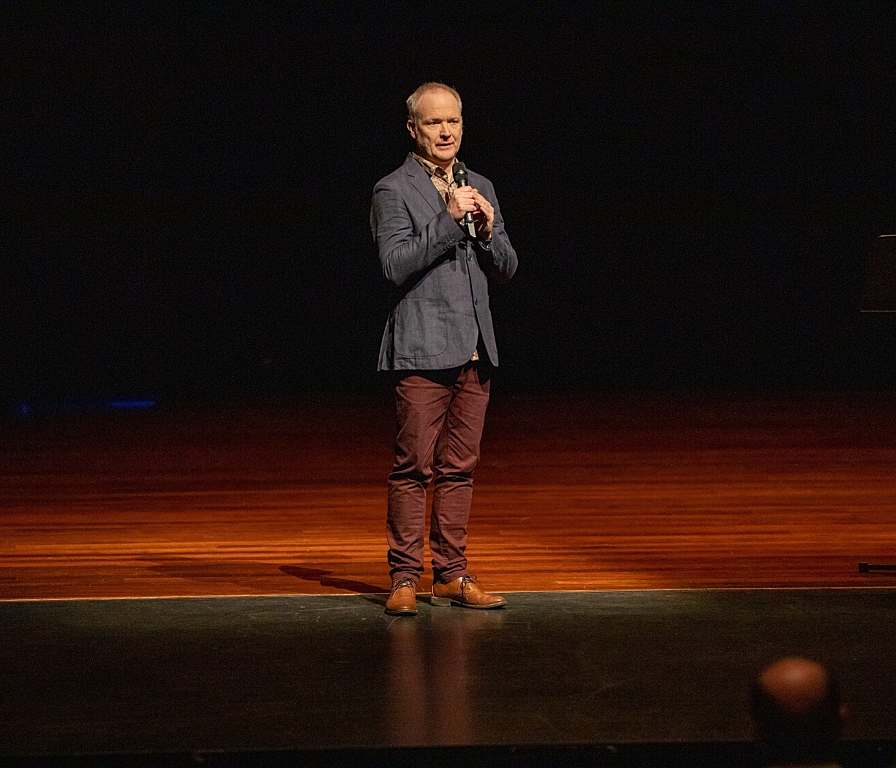 This is the fifteenth year that the West Australian Symphony Orchestra has run Composition Project.
The opportunity to write for an ensemble of professional players is a much-needed platform for young and emerging composers. It is incredibly valuable to hear music performed and gain insight from the musicians performing these new works. The WASO musicians are able to help provide skills that emerging composers need at this juncture in their careers.
Over the last two months the composers have written, re-written, tweaked and re-tweaked their works. The end result is a collection of five exceptionally well-crafted and incredibly varied new pieces.
For the composers it is both daunting and thrilling to have their creations brought to life. However, I know that all the work into the "wee small hours" will be worth it!
James Ledger
Artistic Director, Composition Project

Charles BARBLETT Dust Lost in a Turbulent Gale
Raphael LUXTON Looking Towards Quantoxhead
Alief SCOTT 24 Hours
Nicholas KYRIAKACIS For Those Who Fight Dragons
Rose RUSSELL Cutting Thorns
This concert does not contain an interval.
Composition Project is supported by Bendat Family Foundation.
VIOLIN
Semra Lee-Smith
Assistant Concertmaster
Zak Rowntree*
Principal 2nd Violin
VIOLA
Elliot O'Brien
CELLO
Nicholas Metcalfe
• The Gregg family
DOUBLE BASS
John Keene
• Janet Holmes à Court AC & Gilbert George
FLUTE
Andrew Nicholson
• Anonymous
OBOE
Jonathan Ryan
CLARINET
Alexander Millier
Principal Bass Clarinet
BASSOON
Chloe Turner
Principal Contrabassoon
• Stelios Jewellers
HORN
★ Rod & Margaret Marston
Eve McEwen
TRUMPET
Jenna Smith
Acting Principal
• John & Nita Walshe
TROMBONE
Liam O'Malley
• Dale & Greg Higham
TUBA
Cameron Brook
PERCUSSION
Brian Maloney
KEY
Principal
Associate Principal
Assistant Principal

★ Section supported through the Duet program by
• Chair supported through the Duet program by
* Instruments used by these musicians are on loan from Janet Holmes à Court AC.
About Composition Project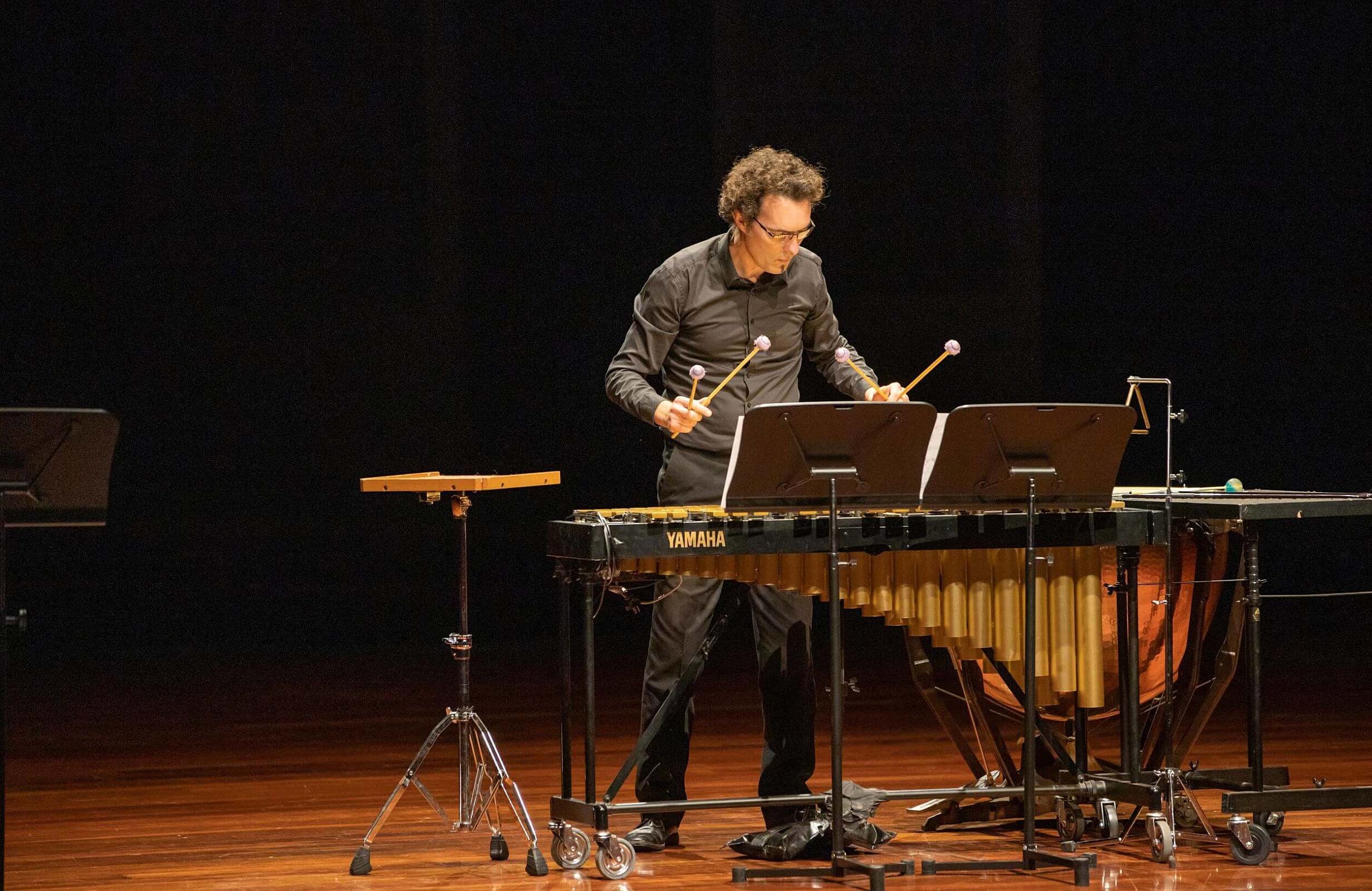 WASO's Composition Project offers young and emerging Western Australian composers the opportunity to develop their skills in a professional environment. Through a series of individual lessons, workshops and rehearsals, participants will compose a new work for a 14-piece chamber ensemble, performed by WASO musicians in front of a live audience at Perth Concert Hall. Participants are mentored both by James Ledger (Artistic Director), Olivia Davies (WASO Composer-in-Residence) and WASO musicians.
This project has helped previous participants successfully gain placement in national and international composition programs, post-graduate studies and secure professional commissions and residencies.
The program offers emerging composers currently studying at a tertiary institution or recently graduated the opportunity to write a chamber work for WASO musicians. Throughout the project composers will develop their work in close collaboration with a WASO musicians, building knowledge of the professional commissioning process of working with a chamber ensemble and building skills in the live compositional workshop process.
Composition Project is supported by Bendat Family Foundation.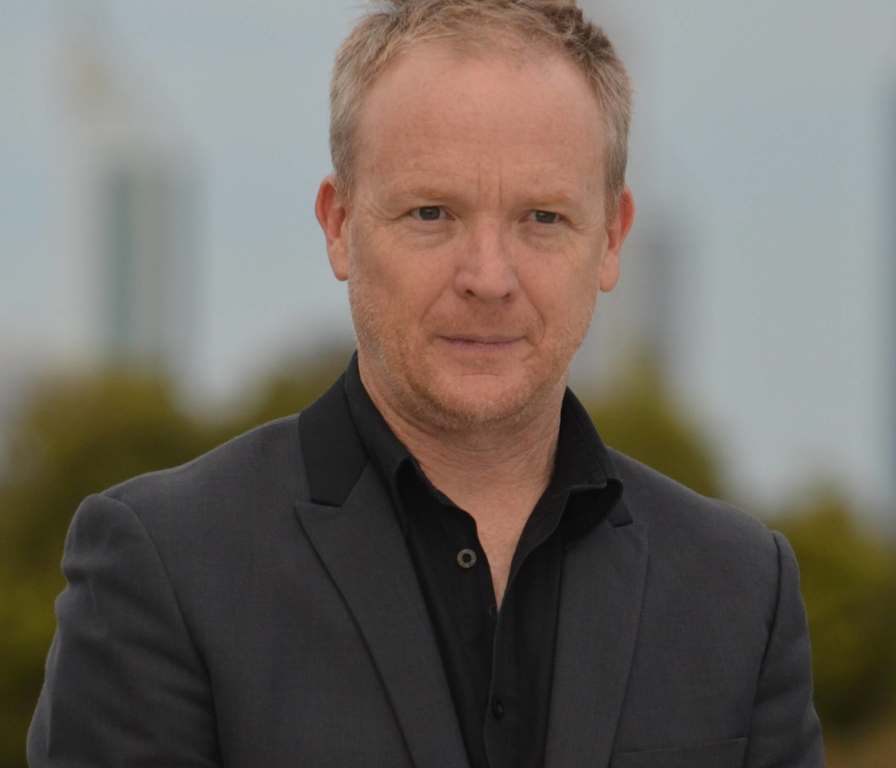 James Ledger
Artistic Director
James Ledger is a composer with a breadth of work spanning solo, chamber, electronic and orchestral music. He has held residencies with the West Australian, Adelaide and Christchurch (NZ) Symphony Orchestras, the Australian National Academy of Music and the Australian Festival of Chamber Music. He has received commissions from Australia's leading ensembles including the Melbourne, Sydney and Tasmanian Symphony Orchestras, the Australian Chamber Orchestra and Australian String Quartet.
James has collaborated with songwriter Paul Kelly and released two ARIA award winning albums: Conversations with Ghosts (2013) and Thirteen Ways to Look at Birds (2019). He has won APRA Art Music Awards for three orchestral works: Viola Concerto (2019), Golden Years (2011) and Chronicles (2009).
He is Chair of Composition at the Conservatorium of Music at The University of Western Australia.
For more information please visit jamesledger.com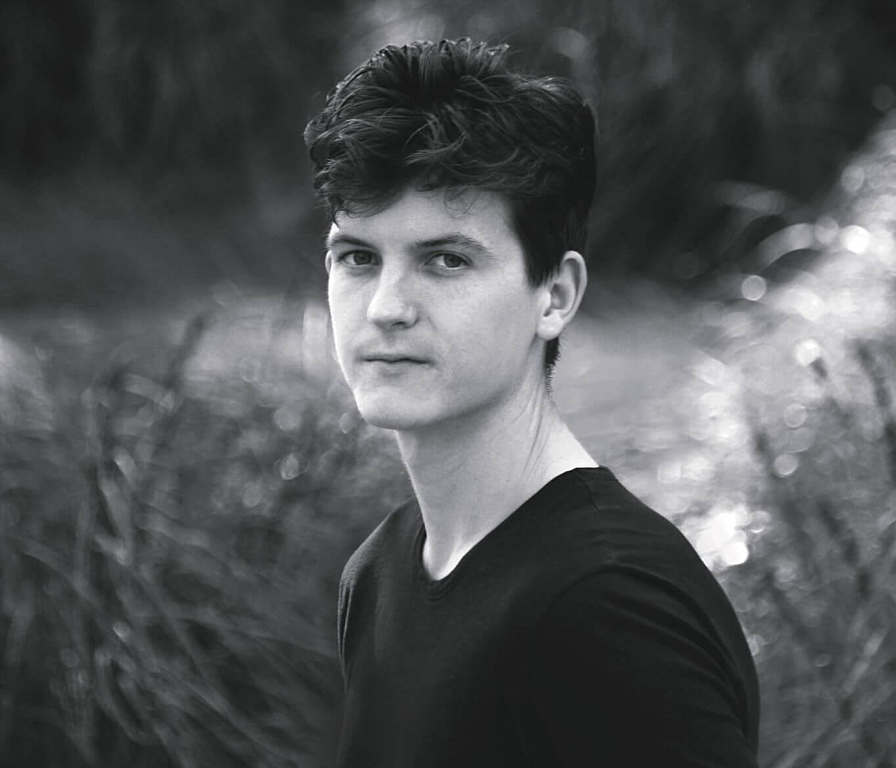 Charles Barblett
Composer
Charles Barblett is a Perth-based composer and performer who graduated from the UWA Conservatorium of Music in 2021 with first class Honours in Music Composition. He studied under Dr James Ledger with a focus on brass and orchestral settings. His music seeks to find unity in chaos, striving to locate and live in the intersections between phenomenology, presentism and mindfulness.
Charles has participated in numerous development programs including programs run by WASO and Perth Festival. He has written for the UWA Symphony Orchestra, Perth Orchestra Project, was a finalist in the 2020 UWA Dorothy Ellen Ransom Prize, and was awarded runner-up in the 2022 Willoughby Symphony Orchestra Young Composer Award.
Alongside composition, Charles has claimed multiple state solo bagpipe championship titles, and until recently was an employed performing member of the Grade 1 Western Australia Police Pipe Band. He is actively engaged in the arts management space, being an alumnus of the 2023 Australian Youth Orchestra Orchestral Management program and having also been awarded a fellowship in arts administration with the Sydney Symphony Orchestra in the same year.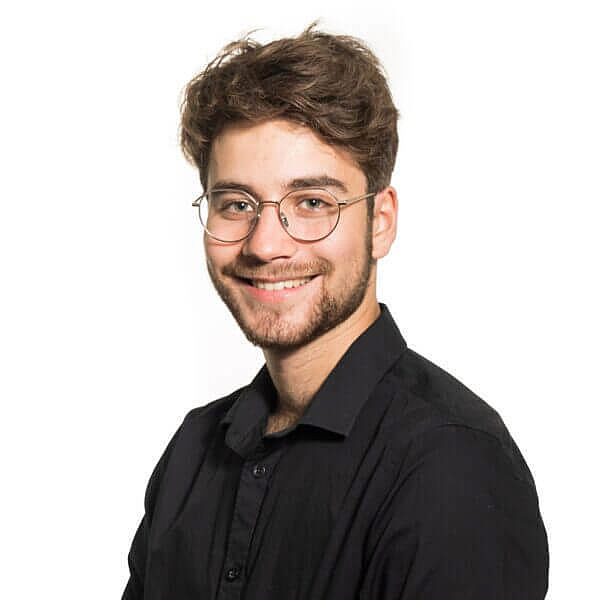 Raphael Luxton
Composer
Raphael Frey Luxton is a composition student currently completing his Bachelor of Music (Honours) at the West Australian Academy of Performing Arts (WAAPA). He has been inspired by music from an early age, learning the piano so he could busk alongside his older brother every Christmas holiday in the city. Raphael continued piano and music lessons throughout his education. In 2019 he graduated from John Curtin College of the Arts, where he majored in Media Production and Analysis.
His passion for composing stemmed from his appreciation of music in film, leading him to WAAPA where he collaborates regularly with the WA Screen Academy. In addition to film music, Raphael specialises in writing orchestral, chamber and solo works, collaborating with various national ensembles including the Australian Youth Orchestra, Adelaide Youth Orchestra, WAAPA Symphony Orchestra, and now the West Australian Symphony Orchestra.
As a pianist, he has also received acclaim for his piano compositions. From Raphael's third-year composition recital, his piece Mosaic for solo piano achieved first prize in the international young artist category for the Golden Key Composition Competition. In August he will embark on an exciting trip to Vienna to perform the work and accept the prize.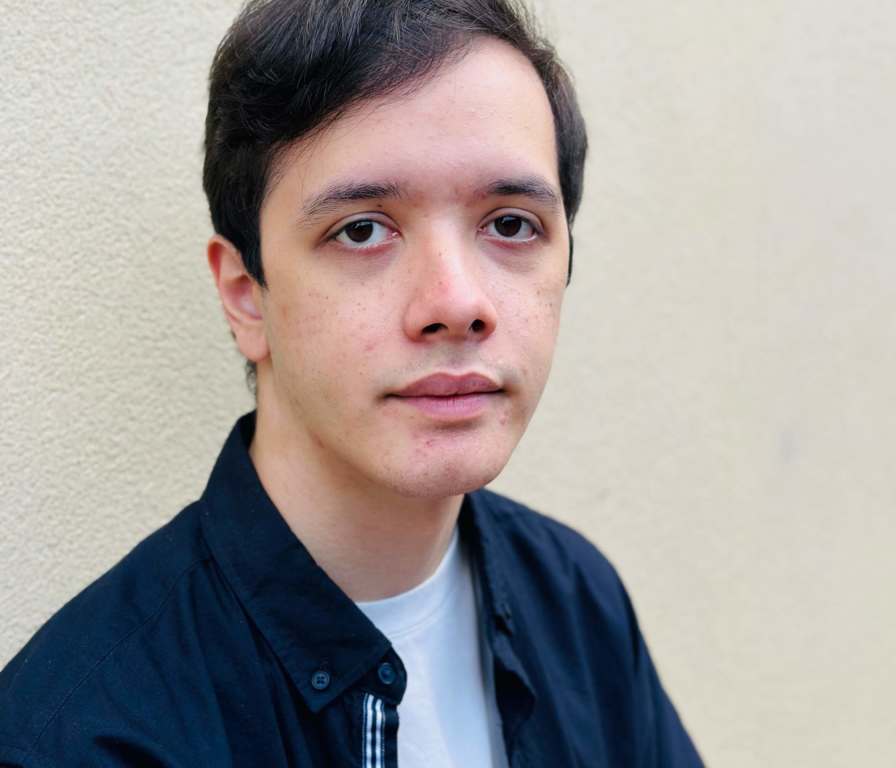 Alief Scott
Composer
Alief was born in Gold Coast, Queensland where he lived until moving to Perth in 2005. Alief's musical education started in primary school, where he learnt the basics of music while being exposed to a wide variety of musical styles ranging from classical to contemporary. Alief picked up classical guitar at the age of 11, which he continued learning throughout high school.
Alief's first taste of composition came with the composition assignments he received in music class in high school, and he soon began experimenting with the notation software outside of these assignments and wrote and arranged many small, and mostly unfinished, pieces. In 2018 Alief started learning piano and has since completed an AMEB Certificate of Performance. Alief's ATAR Music journey began in 2019, where he became more focused on studying music and practising for performance exams, whilst still composing in his free time.
Upon the completion of ATAR, Alief decided to audition for a place in the composition program at the UWA Conservatorium of Music, where he is currently in his third year under the tutelage of Dr James Ledger.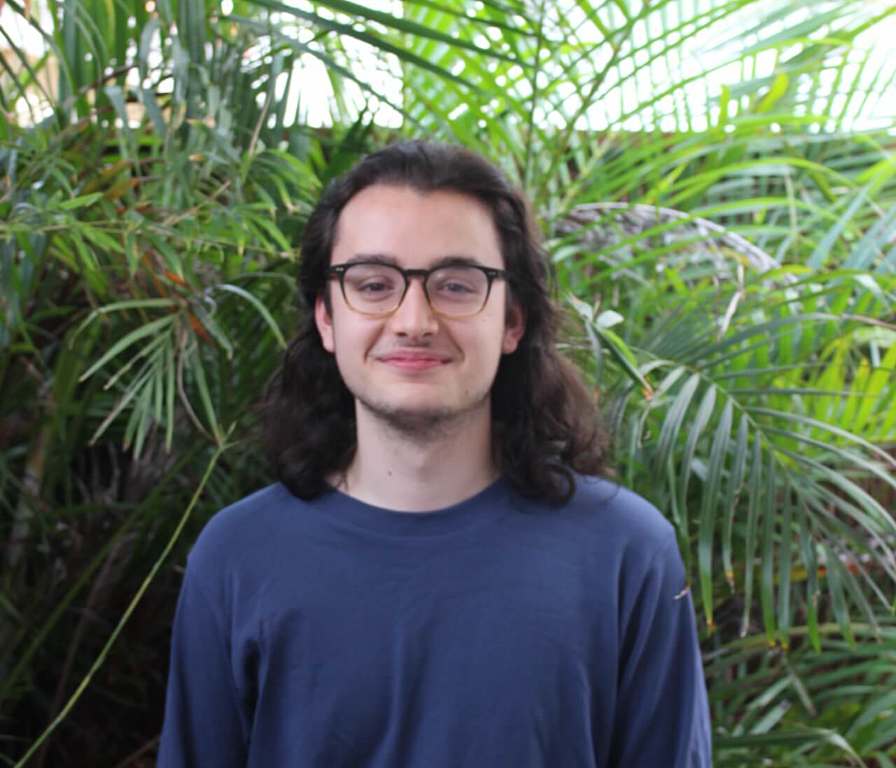 Nicholas Kyriakacis
Composer
Nicholas Kyriakacis is an emerging composer and improviser based in Perth. Beginning as a traditional Greek Bouzouki player, Nicholas changed direction late in high school to pursue his passion for composition. While pursuing composition, Nicholas joined the St. Romanos Liturgical English Choir which sparked his appreciation of sacred music. In 2022, Nicholas completed his Bachelor of Music, specialising in composition, at The University of Western Australia under the tutelage of James Ledger.
He is fortunate to have had many opportunities as an emerging composer, including having his orchestral work The Ladder performed on the 2023 Australian Youth Orchestra National Music Camp as part of the Young Composer Program. Equally he was overjoyed to have won the Dorothy Ellen Ransom Prize in 2022 for his work Anayenisis which was performed by the UWA Symphony Orchestra.
Recently, Nicholas made his debut local experimental improvisation performing as part of the Resonant Fields Ensemble and at Tone List events in venues such a Perth State Library and Fremantle Old Customs House. Currently, Nicholas is preparing to perform as part of the Walyalup Weekend of Improvised Music and collaborating with the A2 Orchestra.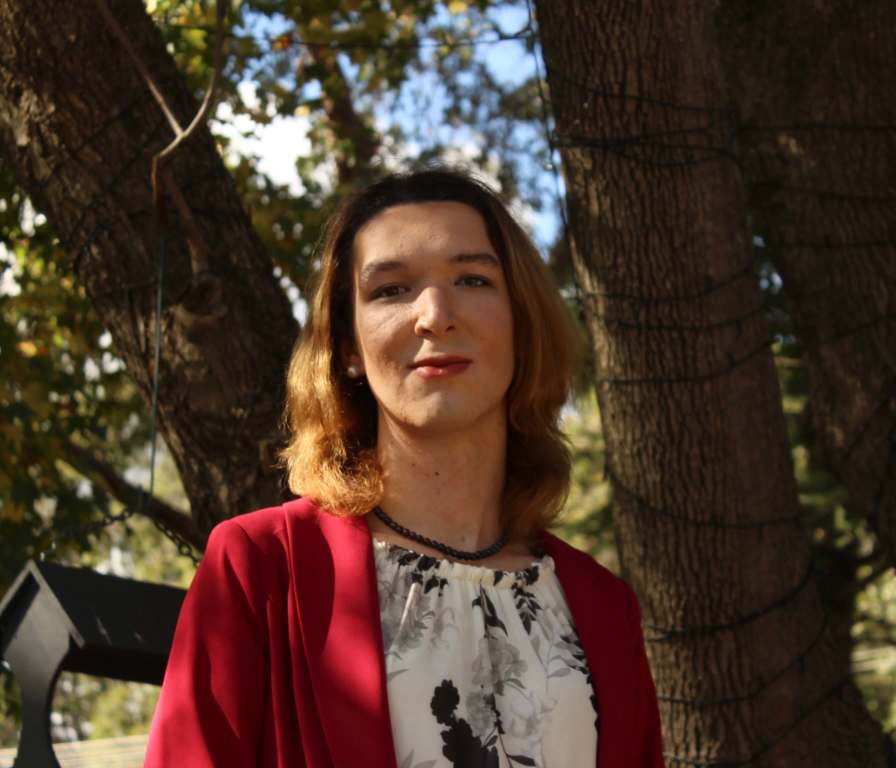 Rose Russell
Composer
Rose Russell (they/she) is a 19-year-old composition student, currently in her third year of study at UWA under the tutelage of James Ledger. Previously to her study at UWA, she was a junior scholar at St John's Anglican Church in Fremantle, studying piano, organ and composition under Dr Daniel Masmanian.
Rose has been involved in various UWA and non-UWA events, including the UWA Pride Concert in both 2021 and 2022, two concerts with the Tenth Muse Initiative, the Studio 2022 program where her work Agnus Dei was performed by the Vanguard Consort, and the Dorothy Ellen Ransom Prize for Composition 2022 where her orchestral work Images of a Forgotten Seafarer was performed by the UWA Symphony Orchestra.
In her compositions, Rose aims to be innovative with her use of melodic fragments, manipulation of structure and shifting harmonic language. Her love of late-Romantic and 20th century Soviet sound-worlds shines through in her work, with her greatest inspiration coming from the works of Brahms, Prokofiev and Shostakovich. Rose's personal favourite description of her work is her teacher's likening of it to "hungover Brahms".
Charles Barblett
Dust Lost in a Turbulent Gale

Dust Lost in a Turbulent Gale is a work that explores the path taken by a speck of dust trapped in a tempestuous storm. It depicts darkening clouds in a grey void that shrouds the earth below, where ominous winds stir and rise with growing unease. Drifting on these shifting currents, the speck darts through chaos in a desperate search for order. The piece champions and documents this unlikely hero as it loses and finds itself amidst the unpredictability and ferociousness of nature around it. Moments of tranquillity emerge from the turmoil, providing moments of false and eerily peaceful respite. Dust Lost in a Turbulent Gale invites the listener to reflect on the fragility and inconsequence of rigid paradigms around order, asking for beauty to be sought amidst life's storms.
Raphael Luxton
Looking Towards Quantoxhead

Looking Towards Quantoxhead is inspired by Australian artist Tessa Perceval's remarkable painting of the same name, created in 1979. The painting portrays a sweeping panoramic view of the English coastal headland approaching Quantoxhead, a location notorious for its jagged cliffs, rocky beaches, and coastal scenery. The painting radiates a sense of vastness and openness, fluently combining the powerful qualities of nature with the tranquillity of a coastal haven. The weathered textures of the nearby cliff face and rocky shore are shaped with thick, rugged and irregular brush strokes that seamlessly merge with the gentle character of the sea, the distant seaside hills, and the pristine sky, graced by a small flock of seagulls. The dynamic nature of the painting is experienced through the interplay between the land, the sea and the sky. I have endeavoured to emulate this interplay in my piece, drawing on various instrumental colours, textures, and techniques that evoke the characteristics of the artwork. The original painting hangs above my desk at home where I write and study.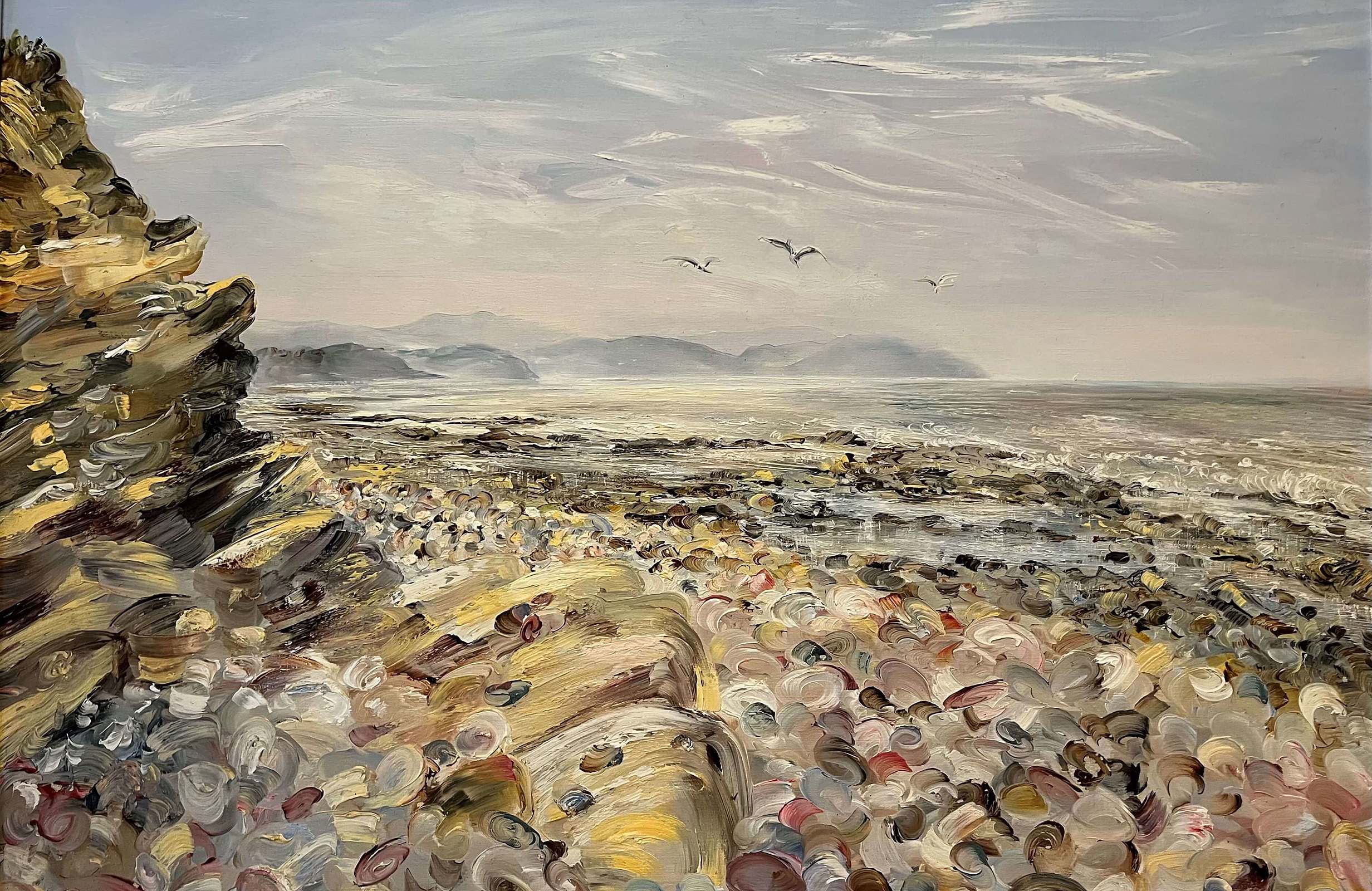 Alief Scott
24 Hours

24 Hours is inspired by the cycle of one day, starting and finishing at midnight. The specific day in question is the 11th of April 1954 – the supposed "most boring day in history," though I tried to make the piece anything but. Many elements of the piece are controlled, or at least influenced by, different aspects of the day, as they were in Perth in 1954. For example, the tempo throughout the piece is related to the temperature throughout the day, and many musical events are the results of things such as sunrise, sunset and changes in weather. The piece is very structured, with each hour of the day corresponding to approximately 20 seconds of music but does not sound as such due to the blurring of the sections, much like how the day evolves slowly as it goes by. This piece mainly focuses on the different textures which can be achieved with this ensemble, ranging from very disparate and thin textures during night-time to dense symphonic textures at the climax of the piece.
Nicholas Kyriakacis
For Those Who Fight Dragons
Written in response to the life of Saint George, For Those Who Fight Dragons sonically explores the narrative and its relation to the story of the knight and the dragon. Commencing with intensity, the Saint's life begins on horseback as woodblocks echo the mythical movement the horse and its rider. As the strings grow in momentum, St. George is forced to confront the dragon, which mystically inhabits the rulers he serves, however his voice is buried under the chaos of porcelain plates and brass. Confronted with an angelic presence, manifested in bowed cowbells, St. George is resuscitated by his thoughts which compel him to persevere. Just as the princess is rescued by the knight's courage, St. George's spirit of endurance, which moves in the warm strings, emboldens the oppressed emperor's wife as she too begins to fight the dragon. Riding forward, the strings spark with momentum whilst the chaotic spirit of the dragon returns in repeated gestures. Finding himself in a final confrontation, the tyrannical rulers behead St. George as the galloping woodblocks cease. As the Saint's spirit lingers in the voice of a single violin, those observing are inspired to fight their own dragons.
Rose Russell
Cutting Thorns
Cutting Thorns is a piece for chamber orchestra that features numerous contrasting harmonic and textural sound-worlds. At times, the piece is overbearingly chaotic and dissonant, and at others, overbearingly bright and joyous. This blurring of sound-worlds illustrates the composer's emotional journey through dysphoria and euphoria, both of which can make one lose touch with reality. The whole piece craves for stability, which eventually arrives in a somewhat unexpected fashion, representing blissful emotional clarity. Certainly, stability in one's life is something that everyone desires, though some must struggle harder than others to find it. Cutting Thorns was written to honour not only the composer's gender transition, but the journeys of gender diverse people everywhere, and the beautiful lives they deserve to live. In a foreword to the piece, the composer writes: "Our thorns do not need to be cut. Our cutting thorns are part of us, they help us grow".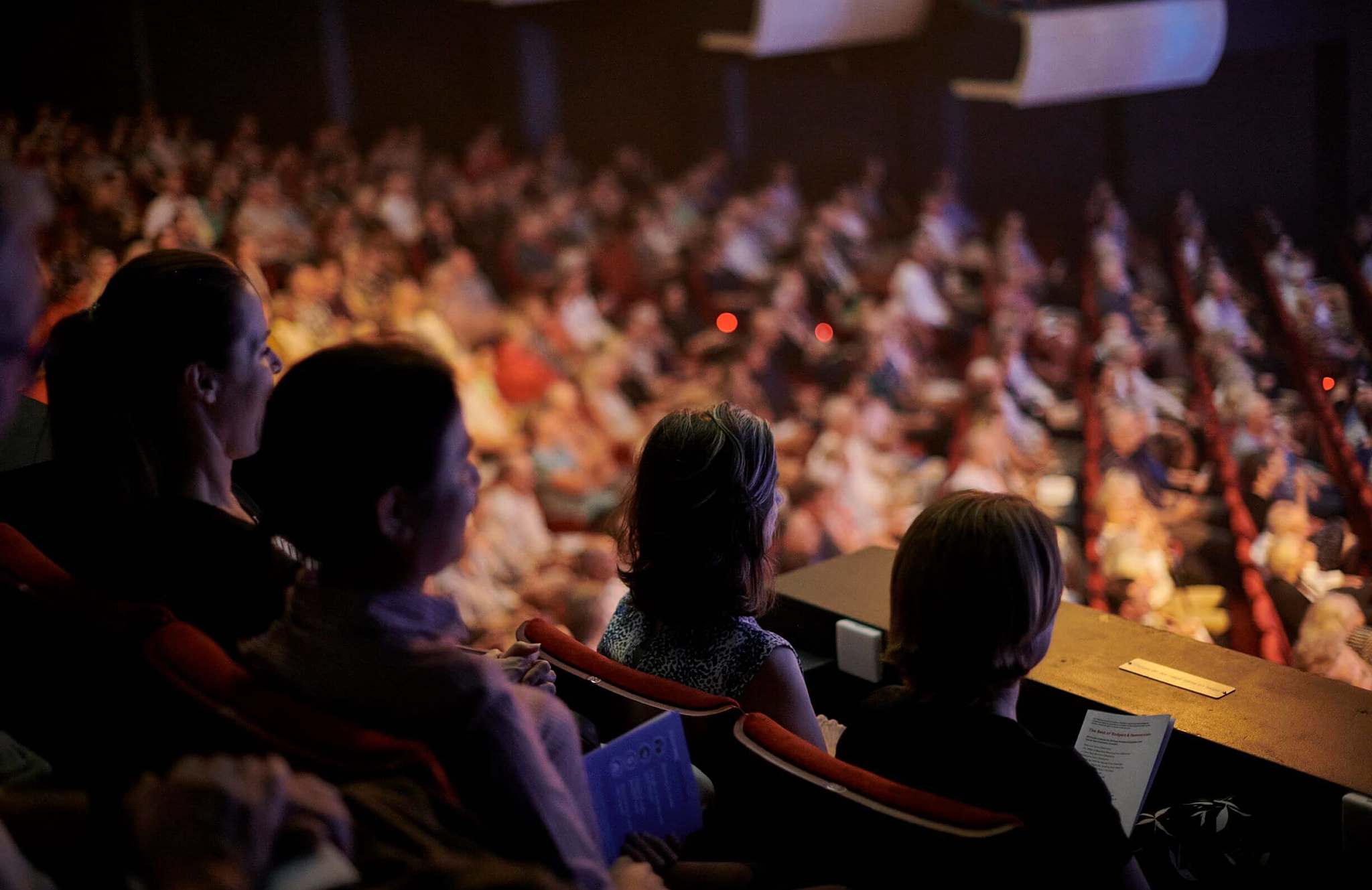 Engage | Excite | Experience | Educate

From the centre of Perth to the furthest corners of the state, we have provided the soundtrack to life in WA since 1928.
As the State Orchestra, Perth's first and finest, WASO is the largest employer of performing artists in Western Australia and reaches two million people with musical experiences each year on stage, in our community, and online.
From concert halls to classrooms, hospitals to aged care, we bring joy, inspire learning, and nurture participation in our community, because everybody deserves the opportunity to experience live music. Every year, through community and leading industry partnerships, we engage a new generation of young and emerging artists to help secure a bright future for music in Australia.
We celebrate our rich classical music heritage with great artists from all over the world and commission and perform new repertoire to renew and expand it. The Orchestra collaborates widely with major arts companies and independent artists, performing opera to ballet, movies to musicals, jazz to rock. We champion the diversity of music in all its forms, with a team of talented and passionate people who create unforgettable experiences for all West Australians to enjoy.
Asher Fisch is Principal Conductor and Artistic Adviser of our Orchestra and we are proud to call Perth Concert Hall home.